For many businesses, locating a suitable office space is a major decision. Sadly, only a small handful of tenants get the representation they need to not only save time, but to get the best deal negotiation. Tenant representation brokers help prospective tenants worry less about leases so they can focus on their business—all while saving money and headaches. When it comes to commercial real estate, having tenant representation helps you discover better properties, including off market commercial buildings, design efficient spaces, and negotiate better deals.
What is tenant representation?
A tenant representative, or tenant rep for short, is a commercial real estate expert that works exclusively with the tenant. Unlike regular commercial real estate brokers, who may work with both the landlord and the tenant (and thus have an inherent conflict of interest), a tenant representative only represents YOU, the tenant.
Does tenant representation cost money?
No! Just like a broker, tenant representation is paid for by the building owner. There is no risk when working with a commercial real estate tenant rep.
What does a tenant rep do?
A tenant rep can help you with a variety of time-consuming activities. Using their expert knowledge of the local area, tenant reps will typically screen your interests and needs, then present you with a variety of options that match your inputs.
Our company, Office Rentals Long Island, can find the perfect commercial buildings for sale or lease in Nassau County and Suffolk County. Whether you're looking for a warehouse or industrial space, a cheap or small office space, or an entire building, we can present you with multiple choices to help you make the best decision possible.
Once you've identified the space for your business, a tenant representative can help you build a floor plan. When you begin negotiating with the landlord, you'll need someone to craft a blueprint of how you use the space. A good tenant representative will serve as your occupancy advisor by recommending beneficial amenities and space planning techniques. Your tenant rep should have a network of architects and space planners in your area to help maximize your usage of the space.
The biggest reason to use a commercial real estate tenant rep is for their assistance at the negotiation table. A tenant rep will be able to explain parts of the contract to you, negotiate for better terms, and, ultimately, advise you if you should take the deal or walk away.
Why use a commercial tenant rep?
Your commercial tenant rep understands the nuance of each deal
Your tenant rep can initiate a conversation with current and potential landlords before the lease expires without disclosing the status or intent of the business. They understand the motivations of each individual owner, which is important because what motivates a small local investor can be very different from what motivates a large institutional owner.
Your tenant rep also understands the nuances that can help you avoid common pitfalls. For example, don't be tempted to just look at the face value of a rental structure. There are many ways a representative can help you create value over the life of a lease by negotiating free rent, improving rental ownership and other allowances, renewals and terminations. flexible contract termination.
Your tenant rep is an expert of the local market
Commercial tenant representatives understand current market trends, price dynamics and structure. They also have relationships with many owners. Tenant reps with existing relationships have established a level of trust with owners, which means they will be more open to negotiations. These relationships are beneficial to all parties involved. With over 15 years of experience, Office Rentals Long Island has an expert-level understanding of the Long Island commercial real estate market.
More time to focus on your business
Getting a new lease or buying a new space can be a complicated and time-consuming process. With analytics tools and research resources, Office Rentals Long Island can examine demographics, driving times, financial statements and more and guide you through the process. structure, so you control the time you run your business.
Get landlords to return your calls
If you've started looking for your own office space, you know how difficult it can be to get a call back from an owner or owner's agent.
Commercial owners are always very busy and don't have time to answer every call they receive. Sometimes, they also hire their own commercial brokers to help them sell or lease their building, who may be more used to working with other brokers than with individuals.
When you hire an experienced tenant rep, they bring two key advantages:
They're calling on behalf of a well-known company in the local area

They may have had a personal relationship with the owner or his/her broker in the past, allowing them to have a more direct line of communication with said party
You will gain access to off-market listings
When you search for office rentals on Craigslist and Loopnet, not every available listing is shown. In commercial real estate, especially in New York when buildings change hands so infrequently, many deals are happening off the market.
A commercial tenant representative will have knowledge of these deals, and introduce you to building owner's you wouldn't have met otherwise.
Summary
A tenant representative can help you find a location, plan your space, and negotiate a better deal at no cost to you. Without a tenant rep, you may not be able to get calls back from busy owner's and brokers, and you lose access to off-market deals.
Office Rentals Long Island can connect you with an expert rep for Long Island and the New York City metropolitan area. Using our Office Rentals Long Island search tool, you can find a space based on desired location, amenities, parking, and more. Just type in what you want to see and hit search!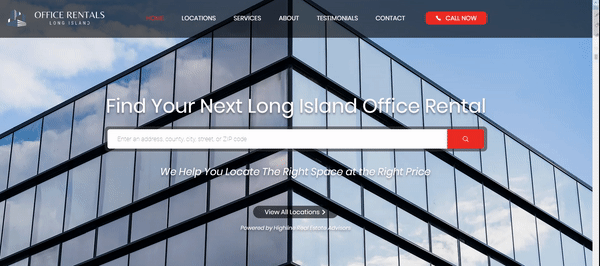 If you'd like to get started right away, click here to contact us!