The Long Island commercial real estate market is in a state of flux in 2022. Emerging out of the COVID-19 pandemic, office buildings, retail spaces, industrial buildings, and multifamily housing are all seeing unique trends. As business owners and CEOs looking for your next location, it's crucial to understand how each sector has been impacted by COVID-19 and what the future may hold. Here is an overview of what is happening in each area.
Office Space For Rent


Office vacancies are expected to surge higher in the near future. With all-time highs, commercial office vacancy levels rose through 2021. The decline began in 2014, and kept going swiftly for five years. In 2019, there was a rise in vacant space, which exploded as 2020 rolled around and COVID-19 sprung up.
While vacancies increased in 2022, rental prices continued to rise. If vacancies continue to rise, however, rent rates are expected to fall.
Because demand for office space has begun to soften, Rental growth is expected to be "moderate" in the near future. If COVID-19 continues to drive up vacancy rates, it might enter into negative territory. Rates are predicted to continue declining over the next year or so.
Retail Buildings For Rent


Covid-19 has undoubtedly been the most challenging for retail. With social distance techniques, walk-in traffic to stores has plummeted, and unemployment rates have remained stubbornly high.
On Long Island, there is more retail spaces per person than the national average (53 SF per person versus just 35). As a result, investors frequently look to high returns in Long Island retail assets. However, that has not been the case over the past two years.
Many investors are hesitant to invest their money during these economic downturns. It is highly uncertain if retail investments on Long Island will rebound anytime soon. The end of the pandemic may be a breath of fresh air for this recessed industry.
Over the next year, cap rates are anticipated to soften, and the market's average sales price per SF is projected to decrease in tandem.
Multifamily Properties For Sale


The epidemic has pushed multi-family principles to new heights. Rents have risen by 2 to 4 percent in each of the past seven years, with a similar rate this year.
However, as the economy sours, vacancies are expected to appear. Over the next year, Long Island's multi-family vacancy rates are expected to gradually rise.
Industrial Buildings For Rent


Despite the fact that the industrial market is in a better position than other assets, Covid-19's detrimental influence should not be overlooked.
Net absorption in the last year has been at an all-time low of -1.9 million square feet, according to CBRE. Despite a slower rate of development, there have been no signs of rental decreases.
Industrial landlords are seeing continued rent growth, with average rent hikes of 5% in the last year. In 2020, Amazon entered into nearly 170,000 square feet in two locations, and Pharmapacks leased 231,000 square feet in Brentwood.
2022 Outlook For Long Island Commercial Real Estate


With the end of the Covid-19 pandemic in sight, there are glimmers of hope for the Long Island commercial real estate market.
We expect the re-opening of businesses and the easing of mask mandates at the state level to bring a boom to the commercial economy. Restaurants will have to hire more workers, offices will need more employees, and warehouses will be able to operate risk-free.
Although these changes won't happen overnight, our outlook for 2022 is very positive.
Want to speak with an expert?


Contact us today to speak with one of our local tenant representatives! Our experts can help you find the perfect solution in Nassau or Suffolk county. As tenant reps, we work exclusively with YOU, the tenant, to maximize every possible benefit in your commercial lease or purchase. We'll help you find the right location, optimize your floor plan, and aid in negotiation.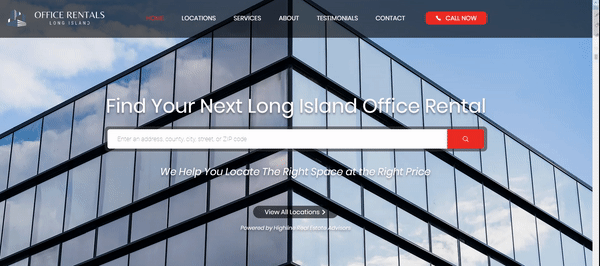 If you already have an idea in mind for what you're looking for, you can use our search tool to find buildings before reaching out. Try searching for "Class A" or "Gym" to get started picking your next office!