If you're a business owner in need of commercial real estate services, it's important to ask the right questions. Not all commercial brokers are created equal - some have more experience and specialize in certain types of deals. It's important to find a broker who understands your needs and is positioned to help you get the best deal possible. In this blog post, we will discuss the top 10 questions every business owner should ask their commercial real estate agent or broker!
Top 10 Questions To Ask Long Island Commercial Real Estate Brokers?


1. What Geographic Regions Do You Focus On?


It is important to find commercial real estate brokers who specialize in the market where you are looking for commercial properties. Many firms have long island commercial real estate brokers, so make sure you're choosing one who is a true local expert. And if you need help, Office Rentals Long Island can help connect you with a trusted professional in Nassau or Suffolk county in 24 hours or less.
2. How Long Have You Been In Business On Long Island?


This question is very important because commercial real estate brokers with more experience on the Island will understand the Nassau County and Suffolk County market in greater depth. They will know a network of local commercial property owners, who will often allow them access to private listings not advertised elsewhere on commercial listing sites like Loopnet, Commercial Cafe, or Property Shark.
3. What Kinds Of Companies Do You Usually Work With?


It is important to find commercial brokers who have experience representing businesses like yours. For example, if you're looking for a specific opportunity for a restaurant or retail business, don't choose commercial brokers who mostly work with office spaces or warehouses. Also, make sure they are well-versed in your desired transaction, leasing or sales.
4. What's Your Specialty?


This can also be referred to as a commercial real estate asset class, or commercial property type. Office buildings are generally classified into three categories in the commercial real estate world: class A, class B, and class C. Each category has a different degree of quality, price, and amenities. It is important to choose a commercial broker who specializes in transactions involving buildings in your desired class. For example, if you're interested in a retail space on Long Island then it would be better to work with a local specialist, rather than a nationwide or multi-state conglomerate.
5. Can You Provide References From Past Clients?


As with any commercial real estate deal, it's important to find a commercial broker who can provide references from past clients. These commercial brokers have the experience and testimonials necessary to help you make an informed decision about your commercial property needs.
6. Where Is The Market Right Now For Tenant Improvement Allowances And Rent Abatement?


Often, landlords will offer incentives for tenant improvements to their building such as rent abatement. This is based on how much time and money will be needed to prepare the commercial property for occupancy. If you're building out commercial space or renovating existing commercial properties, you will have entirely different needs than someone looking for a turnkey solution. Make sure your Long Island commercial real estate broker has experience maximizing the benefits best-suited for your business' needs.
7. How Long Will It Take To Find a Building?


The commercial real estate process can take anywhere from one day to five years, depending on the type of commercial property you are looking for and how quickly it is available. The key to ensuring a quick commercial lease or sale is commercial brokers who have a large network of local commercial landlords in your desired area and building class. These brokers will be able to quickly set up tours and showings so you can begin building a floorplan and negotiating contract terms.
8. What Do You Charge For Your Services?


Most tenant rep firms are not paid by the person they're assisting, but rather, the landlord who wants his building sold/leased. You won't (or shouldn't) be held responsible for paying your representative, much as you wouldn't (or shouldn't) be charged if you were buying a house.
The landlord pays for any fees associated with your broker's service, thus encouraging brokers to assist you in finding the best place as soon as feasible since they won't get a paycheck until a deal is completed.
9. Is Leasing Or Purchasing A Better Move For My Business At The Moment?


A commercial broker who has worked with businesses in your industry will be able to provide more informed advice about commercial leasing vs buying based on the current Long Island commercial market conditions and future projections. This ensures that the commercial property you choose won't limit growth opportunities for your business later on. A good broker will not just find you a building for now, but will work to find you a deal that grows with your business.
10. Where Do You See The Market Going Right Now?


A commercial broker who is up to date on the latest Long Island commercial market trends will be better equipped to help you find a building that meets your needs today, tomorrow, and for years down the road.
Need help finding a trusted local expert?


Office Rentals Long Island has a network of commercial buildings for sale and office buildings for lease in Nassau and Suffolk County. Our search feature can help you find a property based on anything from parking spaces to building amenities.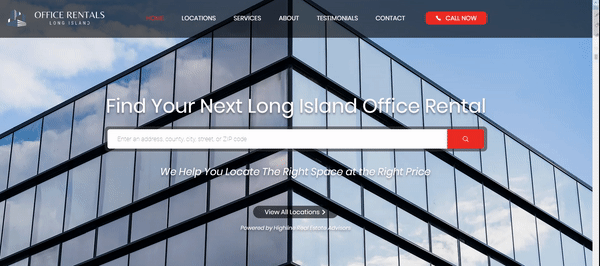 You can also reach out directly to request our building survey and start your search today!