When you are looking for a new office space, it's important to have someone in your corner who understands the market and can help you get the best deal. That's where a tenant representation agreement comes in. A tenant rep is an exclusive representative for tenants in the leasing process, and they have your best interests at heart. Let's take a closer look at what tenant representation agreements are all about and why you should consider using one when finding your next office space.
Tenant Representation Agreement Definition


A tenant representation agreement is a business contract in which a broker agrees to represent a client in the renting of commercial real estate. A tenant representation agreement is strictly between a commercial tenant rep and a tenant (you!).
What does tenant representation mean?


Tenant representation means that a broker is working as your exclusive representative in the leasing process. Unlike traditional commercial brokers, tenant reps strictly represent you and your business, without ever negotiating on behalf of the landlord or building owner.
Why should you have a tenant representation agreement?


Tenant rep agreements can help landlords and tenants navigate commercial real estate deals. Tenants benefit from having an experienced expert on their side who has their best interests at heart and understands how to negotiate with landlords to maximize their lease terms in the tenants favor.
Who is responsible for rent agreement?


Ultimately, the rent agreement is between the tenant and the landlord, regardless of your tenant representation. A Tenant Rep Agreement simply outlines the specific responsibilities and services that your broker will provide you during your search for office space.
Why should I hire a tenant representation broker to represent me exclusively?


Tenant representation brokers offer a number of benefits for tenants. Tenant rep agreements are exclusive to you, meaning your broker will only work on your behalf and never negotiate with building owners or landlords. Tenant reps also have extensive knowledge about the market and can help you find office space that fits within your budget while still meeting all of your criteria.
Furthermore, in the commercial real estate sector, which is one of the most competitive industries, building owners prefer to deal with only the most professional tenants and brokers who they are confident will yield long-term tenancy in a given property.
Often, when you contact a broker through a larger network such as Loopnet or Property Shark, you will get a call from an out-of-state phone number to connect you with the landlord's preferred commercial broker. When you work with them, you're essentially playing blackjack with all your cards face up, and the landlord is the dealer.
On Long Island specifically, buildings rarely change hands and businesses stay in one spot for decades. Having a good local expert could be the difference between getting an off-market gem or getting squeezed into a building that isn't exactly perfect.
When you choose a tenant rep, through a service like Office Rentals Long Island, you're guaranteed to work with a local expert who exclusively negotiates for YOU. You can rest assured knowing that your advisor is a local expert with 10+ years of experience negotiating with Long Island landlords and searching across various Long Island office rentals for the best opportunities.
Summary
An exclusive agreement provides the firm working for you the confidence to spend time, money, and effort marketing your property to the industry on your behalf if you want to see the greatest real estate in your market, including off market possibilities. There is no incentive for brokers or firms to invest thousands of dollars researching difficult-to-find possibilities unless there is an exclusive agreement in place.

Besides the fact that most credible real estate firm will not work without an exclusive, it can become very difficult down the road to establish where an opportunity came from when multiple brokers are reaching out to property owners on your behalf. By retaining an exclusive firm, you demonstrate you are a committed business owner who is focused and ready to secure a location.

Aside from the fact that most reputable firms will not operate without an exclusive arrangement, from a landlord's perspective, it may be difficult to determine where a prospect originated when several brokers are contacting them on your behalf. You demonstrate your commitment to long-term tenancy by choosing one firm and sticking with them.

Landlords have gotten more savvy. A single-represented tenant demonstrates to the owner or landlord that you are serious about their business and intend to stay for the long run.
Get Connected With An Expert On Long Island Commercial Real Estate


Office Rentals Long Island can help pair you with a local expert today! If you're looking for office space on Long Island, our search feature can help you find the perfect building based on anything: square footage, parking spots, building class, location, etc. If you know where you're looking, you can check out our locations page and see all the buildings we represent in your ideal town/city!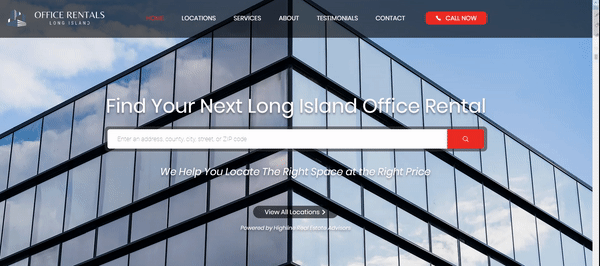 If you'd like to get started right away, click here to contact us!