Who Pays For Tenant Rep Brokers on Long Island? The Landlord.
Tenant rep real estate brokers are always paid by the landlord in NYC (and in the US). People tend to assume that because of this, the landlord simply bakes our commission into the rent or other lease terms so in the end it is effectively paid by the tenant. This is not the case.
In New York, and typically with all tenant reps and brokers in the US, the landlord pays for the service. Tenants often mistakenly assume that this arrangement causes the rent to increase or the contract terms to worsen, so the commission is effectively still paid by the tenant. However, that is not the case.
Regardless of the type of contract you're signing, if it's a new lease or a renewal, there is commission on the table whether or not you engage with a tenant representative. If you choose not to use representation services, then the entire commission will go to the landlord's agent, who is responsible for getting the landlord the best possible agreement to lease the space. If the commission is 4%, and you don't hire a tenant rep, the landlord's broker simply takes the full 4%, rather than you saving 2% on your contract terms. If you choose to hire a commercial tenant representative to negotiate on your behalf, then the landlord's broker and your rep will split the commission, typically 50/50. In our example, it would be 2% and 2%.
The difference between a tenant rep and a broker is that a broker will negotiate on both your behalf and the landlord's behalf, effectively creating a conflict of interest. A tenant representative strictly negotiates on your behalf only.
In summary:
The commission on the table for any commercial deal does not change when you hire a representative; the only difference is whether it is split between your rep and the landlord's broker, or if the landlord's broker will get it all.
So, Why Should You Hire a Commercial Tenant Rep?
Just like a lawyer, your tenant rep represents your interests only, seeking to negotiate the best possible outcome for you with any and all information that will help them do that. The only difference is that instead of a courtroom, tenant reps operate in the field of real estate.
Would you ever want to hire a lawyer that represents you, and also works for your opposing side? Imagine confessing your alibi to your "lawyer," only to have him tell the jury where you really were. He wouldn't be a very good lawyer.
Except that's what happens every time you use a traditional commercial real estate broker to negotiate your lease. Your broker will represent both parties, however, one of them is usually a well-known landlord with a large portfolio who will continue to bring him business, and the other is likely a small to medium sized tenant who will likely give him less business. This gives you David vs. Goliath in the courtroom with a twist: the same person, team, or company represents both sides. Hint: David doesn't win in the commercial real estate version of this fairy tale.
Who would want that? We certainly wouldn't. For that reason, we started Highline Real Estate Advisors, to provide commercial tenants on Long Island with tenant-exclusive representation services. Our job is to represent you and only you, every step of the way. We use our expert knowledge of the local Nassau County and Suffolk County areas to suggest buildings that fit your criteria. Then, we help you create a floorplan for your space. Lastly, we negotiate with the landlord or his/her agent to optimize your bottom line and save you money. This is made possible by 15+ year relationships with commercial landlords in Nassau and Suffolk County.
The only way to get a landlord who truly has your best interests in mind is through a tenant representative.
Why can't I represent myself?
Anything in life is possible if you work hard enough at it, but it helps to have an experienced professional with many years of experience mastering this one process by your side. If finding an office that suits all of your business' needs was as simple as making a cup of coffee, there wouldn't be 120,000 commercial brokerages nationally grossing $112B every year.
Here's why you should pick Highline Real Estate Advisors over any other firm:
1. We have access to non-publicly-facing information that will help you find the best deals on Long Island
Negotiating without knowing all the information on the table is like trying to swim up a flowing river. It's possible, but you're greatly handicapped. Luckily, we have a motor. In real estate, that motor is knowledge from past deals with respective landlords and brokers, off-market properties, and astute awareness of the local area.
On your own, you may be able to lower the landlord's numbers and end up somewhere in the middle of what you wanted and what he/she wanted. And that's where having the right information comes in: a tenant representative can help you determine if you end up on the right rent number, the right number of months of free rent, the right tenant improvement allowance, the right amount of security, and the right real estate tax year relative to comps in your building, market conditions, and what other landlords in the area are doing. Similarly, your tenant rep will know if this is a good deal compared to similar spaces in other buildings, and make sure that your rights are protected in non-quantitative areas like good guy guarantees, your out classes and rights of first refusal, and especially, business interruption clauses.
It's our primary responsibility to be in the know with all the moving parts. We'll help you use all the information available to get the right space at the right price so you can optimize your bottom line.
The best part is, it costs you nothing and can save you thousands of dollars (or more)!
2. We can be your one trusted point of contact throughout the entire leasing process, from finding the right space to building a comprehensive floor-plan to negotiations
A good broker will show you a handful of opportunities in new spaces, whether you're renewing your current lease or looking to move buildings. We just want you to save as much money as possible so that you'll share kind words about our company with your acquaintances. It's a word-of-mouth business.
Then, you'll pick a few from the options we present, and we'll prepare and submit non-binding offers with economic terms designed to net you with the most economic benefit, and negotiate with the landlord's agents to get you the best deal.
Similar to residential real estate, you can go on an aggregator's website and find a broker for any given building. However, the brokers you find won't be working with you; they'll be playing both sides. When you use Office Rentals Long Island, you are guaranteed to be working with a broker from Highline Real Estate Advisors, who is working for you and your interests only.
3. Our firm understands both the Long Island commercial real estate market and the big fish in it, without having a conflict of interest by representing both landlords and tenants
All things considered, real estate is expansive enough where everyone and their mother can Google search "office space near me" and end up with a list of contacts. The difference is that your tenant rep has information and credibility that you (or your mother) don't have.
We've participated in the market and seen comps for recent deals in the neighborhoods you're looking at in Nassau and Suffolk county. Because we've seen all the recent deals, we have information that only inside professionals on your side will tell you: if the terms you're offered are truly competitive with recent contracts, the overall status of the market, and what landlords in similar buildings are doing. If you're getting nickel and dimed, will be the first to tell you.
It's our job to understand, dissect, and convey the whole picture to get you the best space at the best price. Highline Real Estate Advisors has more relationships with Nassau and Suffolk County landlords than any other firm and the experience to maximize your lease, without being a double agent for the landlord.
4. We will unwaveringly advocate for you, many years beyond the initial transaction
When our job is done properly, we build lifelong relationships with our clients that go beyond the first transaction. Your office space is just one aspect of your business' growth story, and hopefully, one of many as you continue to scale. Our mission is to serve you for life and be an unwavering advocate for your continued success. For as long as you lease on Long Island, we will exceed your expectations and continue to represent you throughout the entire agreement. When you grow beyond the island, we will connect you with trusted partners nationwide to ensure the best service wherever you rent office space.
Summary
In the end, the commercial real estate business is all about trust. When it comes to representing your business, you want someone to negotiate for you, not against you, and represent your best interests only. At no cost to you, Highline Real Estate Advisors will help connect you with a commercial tenant representative to maximize every possible benefit in your contract terms.
Try out our search feature today to find a building based on your business' exact needs. You can try searching for property classes, amenities, parking, and more!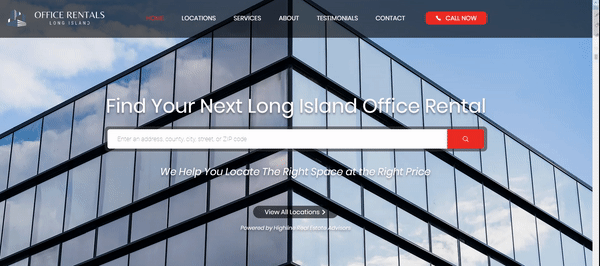 Or contact us directly to get a building survey and start touring Long Island commercial office buildings for sale and for lease as early as next week!